Chong Hong Sow Scholarship of Excellence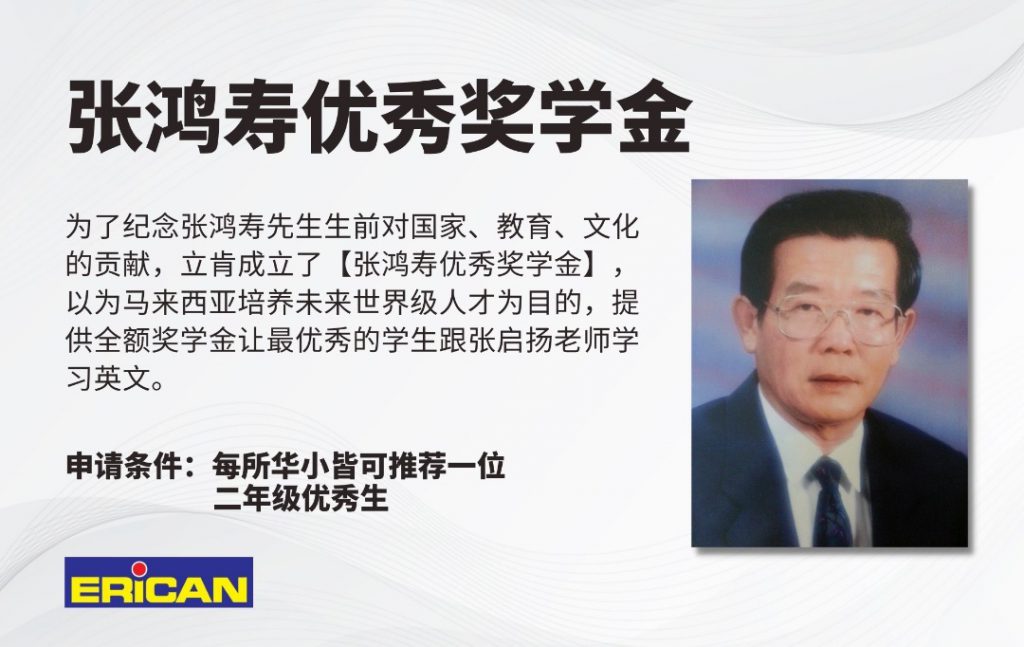 We believe that education should be universally accessible and our scholarship programmes aspire to assist deserving students in developing and nurturing their talents in order to achieve great success in life.
Set up in remembrance of Datuk Eric Chong's late father Mr. Chong Hong Sow, the Chong Hong Sow Scholarship of Excellence aims to assist students who are academically capable and financially disadvantaged to pursue their higher education.
Note:
Shortlisted candidates will be required to attend an interview.
Download Form
Terms & Conditions
Objective:
To develop future world class human capital for Malaysia via helping them to establish a solid English foundation.
Eligibility:
Nominees must be standard two students of selected SJKCs.
Nominees must be Malaysian citizens.
Nominees must have outstanding school academic and disciplinary records.
Nominees must have the interest and determination to improve their English language skills.
Scholarship Details:
One course of Erican Online English
Each scholarship is worth up to RM4000. (Note: Materials fee or the Cambridge English Exams fee is not covered by this scholarship)
Total number of scholarships offered: One (1) per SJKC
Class schedule:

Days/Time: Contact Erican for details
Intakes: Contact Erican for details
Duration: 10 months per course
(Note: Scholarship recipients must fulfill at least 80% of attendance for each month of the programme in order to progress to the next month.)
Registration: Expiry date for registration is 31st December 2021
(Scholarship recipients must complete a placement test before registration.)
Visit the Erican website at https://www.erican.edu.my/chong-hong-sow-scholarship-of-excellence/
Download and print out the application form and fill it in completely.
Scan the application form and save it as a PDF file.
Email the application form PDF file together with a scanned copy of the student's IC (Front/Back) and a passport-sized photo to scholarships@erican.edu.my.
This scholarship application can only be submitted by the School Administration only.
** Terms and conditions may be subject to change when and where necessary.